web applications + Azure Developer solutions
Programa de Especialización para obtener habilidades en la creación de aplicaciones innovadoras en el ambiente Web, desarrollo de aplicaciones de alto performance, dinámicas soluciones que accedan a cualquier dispositivo y nuevas tecnologías en programación integrado Visual Studio. Parte de estos conocimientos pueden ser aplicados en otras tecnologías como Java, Unity, PHP, C++ Python, Ruby..
Inicio: AGOSTO 2022
Un desarrollador en Azure tiene la gran capacidad de diseñar, crear, probar y mantener soluciones en la nube, como aplicaciones y servicios, además de trabajar conjuntamente con otros roles como DBA(s) en la nube, administradores en la nube y clientes para implementar soluciones empresariales. El 90% de las empresas del FORTUNE 500 confían en AZURE lo cual lo convierte en una tendencia para todas empresas en el corto y mediano plazo.
Perfil de audiencia:
Desarrolladores y programadores
Analistas de Sistemas y proyectos web
Administradores y Desarrolladores en Sistemas
Estudiantes universitarios en Ingeniería de Sistemas
Estudiantes de Ingeniería en Informática o de Software
Características del programa:
Material Digital Microsoft
Certificados por participación
Acceso remoto a los laboratorios
Soporte y asistencia técnica
Potencia tus ideas, consigue nuevas metas!
Próximo inicio: 13 de Septiembre de 2021
Duración: 150 horas / 04 meses
Días: Lunes, martes y miércoles 
Lunes, martes y miércoles:
06:30 pm - 09:30 pm (Perú/Colombia/Panamá)
07:30 pm - 10:30 pm (Venezuela/Ecuador/Rep. Dominicana)
08:30 pm - 11:30 pm (Argentina/Chile)

Duración por sesión: 03 horas
Al finalizar cada módulo se cuenta con tips de preguntas de examen, evaluaciones y las grabaciones de las clases para repaso
Beneficios de las Certificaciones Microsoft:
Serás un especialista tecnológico reconocido y certificado a nivel mundial por Microsoft.
Tu credibilidad profesional será desarrollada con conocimiento, experiencia y buenas prácticas en vivo
Aumenta tu valor en el mercado laboral, trabaja, asciende a nuevos proyectos o empresas.
Contenido Programático
20483: Programando con C#
Duración: 40 Horas / Nivel: Intermedio-Avanzado



Revisión de la sintaxis de C#:
Daa Types, Operators, and Expressions
Visual C# Programming Language Constructs

Creación de métodos, manejo de excepciones y supervisión de aplicaciones
- Creating Invoking Methods, Creating Overloaded Methods and Using Optional and Output
- Parameters / Handling Exceptions and Monitoring Applications

Desarrollando el código para una aplicación gráfica:
- Implementing Structs
- Organizing Data into Collections and Handling Events

Creando Clases e Implementando Colecciones Tipo-seguras:
- Creating Classes and Defining and Implementing Interfaces
- Implementing Type-Safe Collections

Creando una jerarquía de clases usando herencia:
- Creating Class Hierarchies
- Extending .NET Framework Classes

Leer y escribir datos locales:
- Reading and Writing Files
- Serializing Data and Performing I/O by Using Streams

Acceso a una base de datos:
- Creating and Using Entity Data Models
- Querying Data by Using LINQ

Acceso a Datos remotos:
- Accessing Data Across the Web
- Accessing Data by Using OData Connected Services

Diseñando la interfaz de usuario para una aplicación gráfica:
- Using XAML to Design a User Interface
- Binding Controls to Data

Mejorar el rendimiento de las aplicaciones y la capacidad de respuesta:
- Implementing Multitasking
- Performing Operations Asynchronously and Synchronizing Concurrent Access to Data

Integración con código no administrado:
- Creating and Using Dynamic Objects
- Managing the Lifetime of Objects and Controlling Unmanaged Resources

Creación de tipos y ensamblajes reutilizables:
- Examining Object Metadata and Creating and Using Custom Attributes
- Generating Managed Code and Versioning, Signing, and Deploying Assemblies

Cifrado y descifrado de datos:
- Implementing Symmetric Encryption and Asymmetric Encryption


20486: Desarrollando Aplicaciones web con ASP.NET Core MVC
AZ-204: Desarrollo de Aplicaciones y soluciones en Azure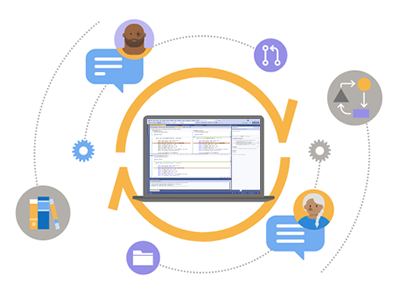 Ruta de Certificaciones
Exam AZ-900 (Opcional)
Microsoft Azure Fundamentals
Examen Online Supervisado
Exam AZ-204
Azure Developer Solutions
Examen Online Supervisado
Credencial basada en Rol: Azure Developer Associate
¿Qué son las certificaciones internacionales Microsoft?
Son reconocimientos obtenidos al APROBAR UN EXAMEN, evalúa tu conocimiento teórico-práctico y habilidades al implementar soluciones de una tecnología específica, los otorga ÚNICA Y DIRECTAMENTE MICROSOFT. Son clave en el desarrollo de tu perfil profesional, para nuevos y ambiciosos proyectos.
¿Cómo son los exámenes de certificación internacional?
¿Porqué el programa dura 04 meses?
¿Qué certificados puedo obtener?
¿Porqué invertir en Lourtec?
Planes de Inversión
Diseñamos un excelente programa, reduciendo los costos con el objetivo de garantizarte puestos destacados en las empresas líderes, aumentando las oportunidades profesionales y económicas.
Consulte con su asesor la disponibilidad de vacantes u otros métodos de pago.